As temperatures plummet, we're adding Winter accessories like hats, scarves and gloves to our outfits. Our icy and snowy anniversary trip to Whidbey Island reminded me how effective these accessories are at keeping out the cold. They make all the difference.
Of course, insulating against the cold is the priority, and after a certain point you're concerned more with keeping warm than matching your Winter accessories. But a little thought can go a long way when pulling together your Winter look. That way you'll feel fab when you're all bundled up.
Scarves are one of the most versatile accessories you can have in your closet. Perhaps you've received a lot of them as a gift and you don't know how to use them best. Here are the basic tips to guide you:
1 COORDINATE COLORS
The key to learning how to properly wear your scarves with your clothes is to know the color rules. The most important thing to remember is color harmony and matching.
Complementary colors – These are colors on the opposite side of the color wheel. For instance, you can match that yellow orange scarf with a dark blue top.
Monochrome colors – These are different hues or shades of the same color family. For instance, you can use your violet pashmina scarf to brighten up a light lavender sweater.
Analogous colors – These are colors next to each other on the color wheel. If you have a blue scarf, you can wear it with a violet top or a green dress.
Triadic colors – These colors are evenly spaced apart on the color wheel. A bright orange red top can be accented with a blue-purple scarf and with a light yellow-green coat.
Tetradic colors – These are colors that use two complementary pairs. That blue and purple plaid scarf you have can be paired with an orange and yellow outfit.
2. MATCH THE HAT, SCARF AND GLOVES
The simplest way to coordinate is to match the colour (pattern or solid) of all three Winter accessories. In some instances you can also match the fabrication if they're woolly knits. The Matchy-Matchy trend is alive and well, and totally in style. Why not!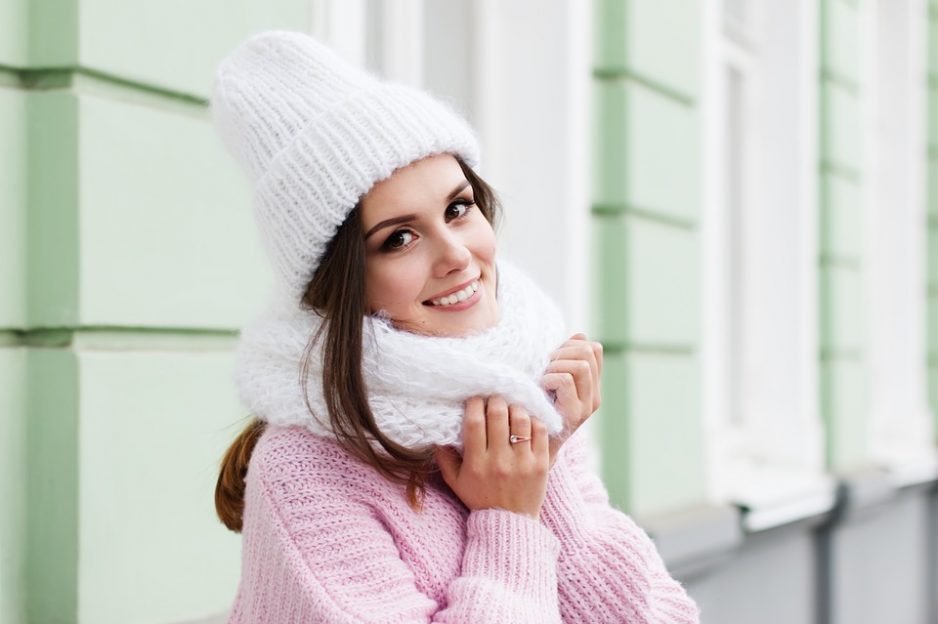 3. MATCH TWO OF THE ITEMS
This strategy is popular with my clients. Match two of the three Winter accessories. Matching the colour (solid or pattern) of your hat and scarf is probably the easiest option. This is a slightly trickier option than the first one, because you need to do the third item in a colour that is complementary to the first two and to the colours in the rest of your outfit.
4. CREATE A COMPLEMENTARY COMBINATION
Wear a hat, scarf and pair of gloves that aren't an exact colour match, but complement each other and work well with the other components of your outfit — your coat and footwear in particular. Given all the variables, this is definitely the hardest way to combine Winter accessories and feel pulled together, but it can lead to a very interesting look.
These days, I like to match the colour of my hats and gloves and throw on a non-matching scarf that works with the outfit. I wear a hat that is low contrast to my hair, which means off-white or cream. My gloves are off-white and black so they match in a less "matchy-matchy" way. And then I choose between three Winter scarves. A tan Burberry check, a chunky tomato red woolly number, or a chartreuse pattern. The exact items are represented in the collection. None of the items are an exact match, but they work well together.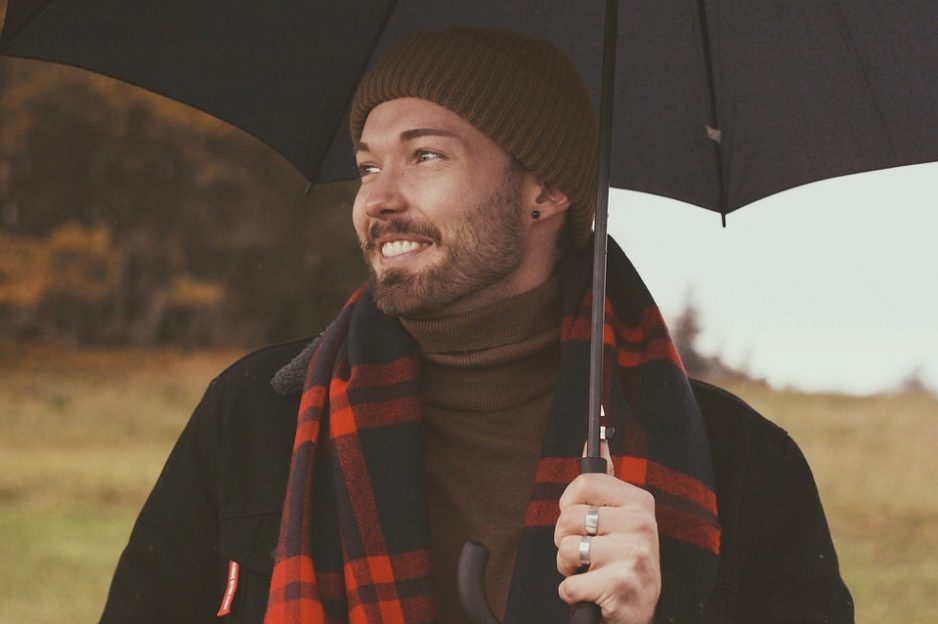 5 KNOW WHAT TO WEAR CERTAIN HATS WITH
There are different types of hats, but here we will discuss the best ways to wear the hat styles that are most fashionable and always in season.
1. Wide-brim hats
Wide brim hats – especially those in colors like brown, gray, navy blue, burgundy, rust and olive green – are always in fashion. They are accessories that add color and dimension to fall outfits. If you've got a structured hat, match it with flowy dresses or bohemian-style tops. Warm-colored brim hats can look great with leather pieces like bags, jackets or boots in brown tones. Rust and brown hats look especially more fitting with a cool-toned dress or top, or a creamy blazer. A body bag with a narrow strap suits a wide-brimmed hat well. Keep your hair down in a casual manner or have some loose curls.
A black wide-brim hat is very versatile. You can go for an all-black ensemble and add a pop of color with a patterned scarf or brightly colored body bag. You can also dress up a black hat with a wool coat in lighter hues. Match it with your belt or shoes for a polished, clean look.
A good beanie hat is often made of cashmere, which is probably the coziest material you can wear on your head. It's great for outdoor activities because of its no-fuss style, and it's also a good accessory to keep yourself warm. This casual wear looks best if you let your hair down or style it in a loose, side braid. There's no need to pair it with any glamorous makeup, hairdo or jewelry because the hat will look out of place. It will look best with an oversized sweater, a warm jacket, wool leggings and sturdy outdoor boots for an outdoorsy vibe.
3. Baseball hats
This fashion accessory borrowed from men's fashion has made a comeback. This is a hat great for running errands or for a simple, casual day out. It's best to pair with a graphic tee or a sweater. It's also a great way to accessorize a plain white shirt and jeans combo. This is great to wear with sneakers, or you can amp it up with boots. This hat also looks great when paired with large gold hoop earrings or a jumpsuit. It's best worn in a ponytail, braid or you can simply let your hair down.
Now you know 5 tips about matching a scarf, contact aungcrown to customize your own winter scarf.