In this winter, where the temperature is getting lower and lower, there is a gust of cold wind in the air. I believe that many of my sisters have already prepared for winter clothes, and all kinds of beautiful and beautiful shapes fill your wardrobe. But also give some small items some vacancies, such as scarves and gloves, especially the warmth of the head can not be ignored. So you can add a bright point and temperature to your shape, and you must be your first choice for winter. It can not only block the cold, but also make your style more fashionable and individual. So how do the matching knit hats look good? Here are three different dresses, fairies that like concave shapes, just take a look.
First, a knit hat with a short jacket
Winter is so cold, of course, you need a hat to keep your head warm, and a knit hat is your best choice. Wearing a knit hat can not only modify your face to show a small face. After pairing with the cool jacket, there is a sense of style. The tough and handsome jacket is matched with the soft knit hat. It can be said that it is a fashionable and fashionable combination of winter. No matter what color you can match, wearing a knit hat instantly neutralizes the toughness of the jacket and adds a touch of soft femininity. A black jacket like this, wearing a pair of casual jeans and ankle boots, wearing a navy blue knit hat on the top, neutralizing the feeling of being too neutral, adding a soft feminine feel, while still very casual Fashion.
In the cold winter, rich and bright colors can break the gloom of winter, making people feel less dead, so a bright and fashionable knit hat can bring about a role. When you wear a lemon-yellow knit hat, wear a cool handsome jacket, a green trousers on the lower body, and double black boots on your feet, so that your return rate is 100%, it is tall and confident.
Second, knitted hat with coat
Winter coats must be an indispensable item in every sister's wardrobe. The maturity of the coat is matched with the fresh literary style of the knit hat, making your wear more attractive. In the winter, bright colors can break the winter's depression, so you can choose the same color hat and coat, so the match is definitely not a mistake, but also makes your overall look very harmonious. Like a dark yellow coat on the picture, wearing a high-neck sweater, wearing a khaki slacks on the lower body, wearing a camel-colored knit hat, wearing a pair of small white shoes, the overall color is compared It has always been simple, casual and casual, and it has made the hat an eye-catching styling.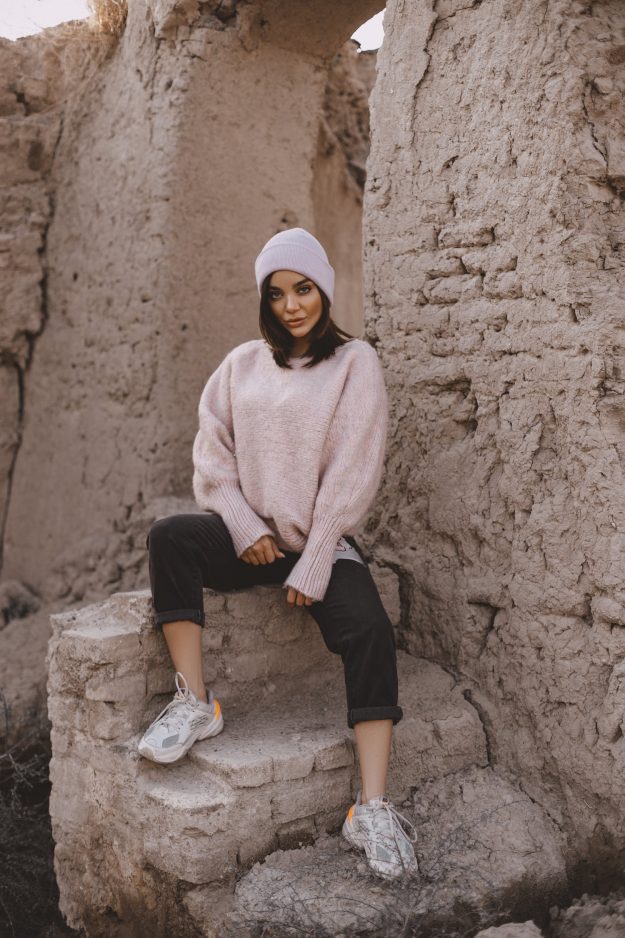 In the autumn and winter seasons, many women's coats should be black and gray, so that the hats can be matched with the same color in order to make the overall shape consistent. For example, the hipsters on the map chose a certain black knit hat to match the black coat, and the lower body is also black to wear. Although the overall color is low-key and deep, the shape is full and full of sense of atmosphere.
Third, knitted hat with lamb coat
There is no bloated feeling of down jacket, no luxury of fur, easy to wear a casual casual style, non-lamb wool coat is none other than. The lambskin coat is a cute and cute one, which can create a soft and cute girl's feeling, and can bring a cool and handsome street feeling. Such a jacket with a knit hat can be said to be more warm and full. Because the lamb coat itself looks very warm, with a knit hat to bring a full winter feeling. Such a brown lamb coat, lapels with lining of lambskin inside, super warm, with a slim trousers on the lower body, a white knit cap on the body, wearing a pair of booties, while keeping warm Stylish.
In the autumn and winter season, wearing a knit hat can bring unparalleled warmth. It can handle all styles without being as small as a baseball cap and a beret. A jacket with a lamb's hair like this, the medium-length version is very good for temperature, with a yellow sweater inside, a pair of casual jeans and a pair of black leather shoes with a light blue knit. The hat, the whole person's breath feels a lot gentler.
So this winter, come and use your knit hat to create your winter look!