Choosing between a sweatshirt and a hoodie can quickly become a conundrum. Both are different things and when you're overloaded with options in both categories, it's easy to feel slightly overwhelmed. Before we move on to which one is better, let's first talk about the differences between a sweatshirt and a hoodie.
Which One Is Better: Sweatshirt or Hoodie
What's the difference between a sweatshirt and a hoodie?
Both sweatshirts and hoodies are garments to keep the body warm. Both of them are usually made of similar fabrics and have similar looks. However, that's where the similarities end. The most common difference and one that you probably know of is that hoodies have a corded hood. On the other hand, sweatshirts don't have a hood.
General properties of sweatshirts and hoodies
A sweatshirt is a long-sleeved pullover garment. It covers the upper body and the arms, just like a hooded sweater.
Material: The fabrics used have the same general properties. Whether they are made from classic French Terry or other types of knit – either cotton, plastic or other materials – depends on the manufacturer. But there is no fundamental distinction between the sweatshirt and the hoodie when it comes to material.
Collar: A sweatshirt can be worn alone or with an additional garment, such as a shirt or T-shirt. This is similar to a hoodie, but in the hoodie's case you can't wear anything underneath that is supposed to be visible because the hood offers no room for it (more on this topic below).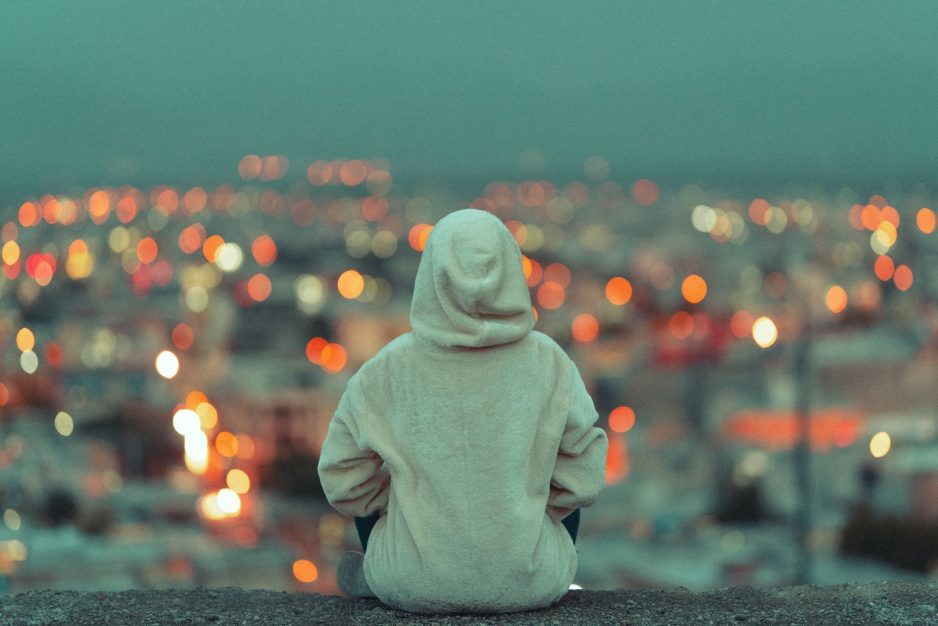 Details: A sweatshirt normally has no buttons, hooks or zippers and is therefore the simpler garment. A hoodie, on the other hand, not only has a hood as an extra but often also cords that peep out of the hood to tighten it. Some hoodies also have a zipper so you can opt to wear it open. Another common design nuance of the Hoodie is the Kangaroo pocket at the front, which can't be found on a typical Sweatshirt.
Which one is better?
It's easiest to compare hoodies and sweatshirts on specific qualities. Let's take a look.
Print: Usually, hoodies tend to have more elaborate prints. On the other hand, sweatshirts are classically plain.
Warming: Hoodies provide better protection against the cold because of the closed neck, adjustable hood, and length.
Fitting: A sweatshirt tends to fit better in general. Typically hoodies are worn loose. However, exceptions exist.
Options: Usually, sweatshirts have more fabric, color, and branding options than hoodies.
Comfort
Comfort is a very personal quality. Some believe hoodies are more comfortable, while others find the sweatshirt to be more comfortable. Because comfort is a personal preference, we can't really call one superior to the other. Go with your gut feeling!
When to choose a sweatshirt over a hoodie?
Both sweatshirts and hoodies are warm garments that can either create a sporty look or loosen up a more elegant outfit. Nevertheless, there are certain outfit combinations in which a sweatshirt should certainly be preferred to a hoody. On the other hand, the sweatshirt doesn't always match every look and should give way to hoodie to avoid a potential faux pas.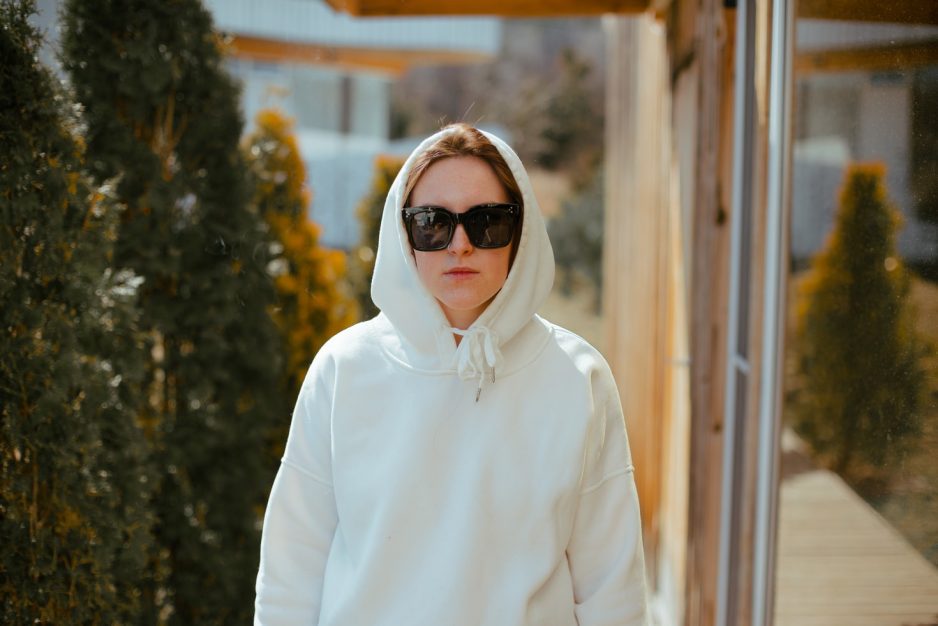 In wintery and windy conditions
Both hoodie and sweatshirt are perfect styles for the colder days: heavy fabrics such as French Terry cotton and a closed waistband at sleeves and torso, help to perfect heat insulation. The hood, however, offers additional protection to keep the head and ears warm: this is obviously especially helpful in windy moments when you don't have a beanie at hand. But even if the hood is not worn, it can have a warming function for the neck. Therefore a hoodie is certainly superior in those tough conditions compared to a sweatshirt with a round neck.
For formal occasions
A sweatshirt in simple colours like grey, dark blue or black can also be worn when you are invited to dinner by your parents-in-law. If you want to style it up a little, you can even wear a shirt underneath. A hoodie, on the other hand, is at the very least debatable and mostly unsuitable for such an occasion. As already mentioned: Collar shirts should NEVER be worn under a hoodie. Moreover, the hoodie (perhaps because of its controversial history) still doesn't fit perfectly into a more formal event – like eating with rather square parents-in-law.
During chill-out moments
Both hoodies and sweatshirts always look casual and provide for a relaxed look. But with layered outfits, a hoodie can offer more possibilities and can paradoxically can look more sophisticated and urbane. The distinctive hood in combination with jeans, bomber or leather jackets can add an interesting extra. You can also wear a well-fitting T-shirt under a hoodie with zipper. The layered look options for a crewneck sweatshirt are somewhat more limited.
As you can see, hoodies and sweatshirts have their own advantages and disadvantages. Of course it also depends on the occasion and the personal taste, to decide which fits better. But one thing is clear, for maximum versatility both are absolute must-haves and belong in every wardrobe. However, with these timeless classics you should also pay attention to the quality as well as the item, because they will never go out of fashion. If you really don't have a sweater or hoodie or just can't get enough, then have a look at our Sweatshirt collection, which includes both of these classic options.