Since the main reason you'll be wearing shorts is to keep cool in the warmer weather, you'd do well to stick to lightweight, breathable fabrics. We look at suitable summer fabrics based on fibres and weave, as well as some to avoid when it comes to shorts.
COTTON
Cotton is a great hot weather fabric as it can be woven to be very light and breathable. Summer favourites are chino cloth (a lightweight cotton twill), madras (a lightweight cotton in a loose and simple weave, handwoven in India) and seersucker; a light cotton weave with a puckered surface, which according to some helps air circulation, cooling off the body (possibly as the dimpled texture has less contact with the skin and allows more flow). Another advantage is that seersucker cotton hides wrinkles very well again due to the crinkled nature of the weave; no ironing needed.
Soft and durable, chambray cotton is denim's less sweaty cousin; a great lightweight alternative to the classic indigo twill. Plainly woven and airy, it looks crisp and cool even with a slight wrinkle. And if you wanted to go for something even more durable then try a cotton twill (look for the diagonal rib pattern). Here the options are a lightweight chino cloth (as used in the eponymous pants) or a heavier twill similar to what is used for khaki shorts, although that durability comes in the form of a denser weave and thicker fabric, and thus reduced breathability.
Need your shorts even more durable? Look for cotton canvas shorts. Cotton canvas is a heavy plain weave, originally used to make sails and workwear. Again, the increased durability comes at the price of reduced breathability.
LINEN
Another summer staple is linen, a superbly breathable fabric. The deal with linen is that you have to embrace the wrinkled look as there is no avoiding it, and you don't want to be ironing or dry cleaning your shorts all summer while you could be spending your time at the beach and your money at the bar.
Make sure you get a high quality linen; a dense, thin weave with a soft hand-feel is more form-fitting, will wrinkle less and will get softer over time. As you'll be wearing it against your skin, avoid the thicker, coarse stuff as it will feel itchy against your skin and it won't follow your body contours but rather will go off and do its own thing. A fine linen on the other hand gets softer the more you wear and wash it, and will last you a long time.
WOOL
Wool can be a surprisingly good choice for summer clothes, as wool can be woven less densely than for instance cotton, and still look good. Wool is also a great temperature regulator as it absorbs and evaporates moisture more effectively than most other fabrics. So as long as it is the right type of wool; a lightweight, loosely woven wool that allows air to flow through (so make sure it's unlined, as the lining will block breathability), and is made of fiber diameters of less than 20 microns, which also means it's the non-itchy kind. Added bonus: wool doesn't hold wrinkles like linen or cotton, and it doesn't hold smells either.
TECHNICAL FABRICS
Technical fabrics like polyester and nylon are are durable and quick-drying, making them great for sports, exercising and outdoor activities such as swimming, yet they have little in the way of breathability so if you're going to spend most of your day lounging around in the sun rather than in the water then you might want to bring a pair of cotton or linen shorts as well. A way around this can be a blended fabric, e.g. nylon-cotton. More on this below.
BLENDS
Any blend of cotton and linen will also suit your summer plans just fine, and adding some tencel to the mix could further improve the breathability and durability of the shorts, yet tencel could also add a slight shine to the fabric so check if this works for you before you commit.
A properly woven mix of a technical fabric like nylon with a natural, breathable fabric like cotton could get you the best of both worlds. As always, not all fabrics are created equal so make sure you invest in decent quality (densely woven i.e. not transparent, with a smooth hand-feel).
CHOOSING THE RIGHT COLOUR
Everyone has their favourite colours and patterns, and having the guts to go with what you love is great. But there is also real benefit in understanding colour theory and opting for styles which generally suit your style and complexion. Certain colours look better with pale skin whilst others are ideal for darker tones, and patterns are a different ball game altogether.
COLOURS
With a paler skin, you'll look best in darker colours which contrast with your skin tone – bottle greens, deep slate greys and brown, as well as navy and vibrant blues work well. Black and white combinations are a no-go, as well as too many pastels or bold brights, as they will simply wash out your skin tone.
As the skin tone darkens, you can work more pastels and brights into the mix, and the same goes for neutrals such as sand, camel and khaki hues.
For olive skin tones, go bold. While most colours will work well with a medium skin tone, you'll get the best results in shades that are either a little brighter or darker than the middle ground; choose a deep orange or a royal blue instead of their faded variants. Avoid colours and shades that blend in with your skin tone.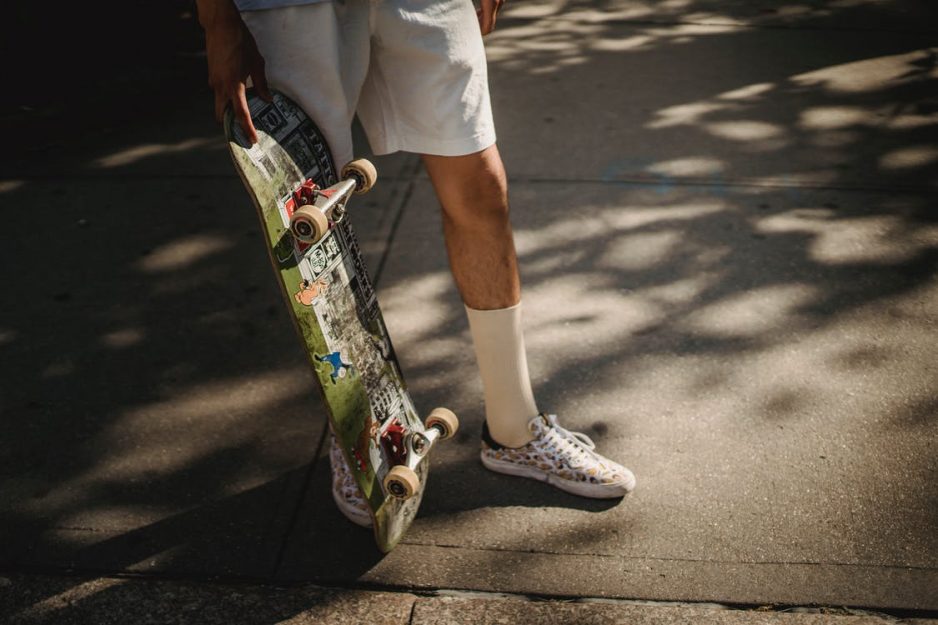 Guys with darker skin tones, take your pick. You can go for whatever colour takes your fancy, as long as they contrast with your skin; be brave and try your luck with bolder options, including prints and patterns. Darker colours like black and navy still work, but try to limit them in your outfit and incorporate a complementary colour to make it work.
PATTERNS
Combining patterns with patterns is an art in itself, and you almost have to approach pairing patterns with the intent of not matching. A useful rule of thumb is to at least make sure your patterns are different in scale; for instance pair your large check suit with a thin stripe shirt and a micro-dot tie. Other than that, there are no rules to pattern matching; it takes experimentation and practice.
For most, patterned shorts are best paired with neutral or plain tops to avoid getting too busy. If you're unsure about pattern matching but you still want to make a statement, in most cases you're better off pairing your patterned shorts with a bold plain coloured shirt rather than risk clashing prints.
A pattern will always draw attention to the body part you're wearing it on. For example, if you want to show off your legs but don't feel comfortable with your upper half, wear patterned shorts with a neutral top for a look that isn't too loud. Any attention will go to the shorts, ultimately complementing the section of the body you don't feel comfortable with.