There's more than one way to keep your ears warm and your head protected this winter. Consider this your guide into the world of beanie styles, materials, and shopping tips and brave the icy winds in style.
4 styles of Beanies For Men
You may have stuffed your head in whatever winter hat you could find as a kid, but you're an adult now and have choices. From classic cuffed skullies to ones with pom-poms on top, there's a type for whatever story you want to tell.
1. CUFFED BEANIE – CLASSIC AND TRADITIONAL BEANIES
Cuffed beanies are the most classic and traditional style available. And this classic-ness makes them ideal for a weekend out or as you commute to work.
The cuff around the edge gives double protection to your ears and forehead. Wear the beanie so the cuff covers around half of your ears. When the wind picks up, pull it down for extra heat. If you're not sure what color to get, shop for solid dark colors that'll match most winter wardrobes.
2. FISHERMAN BEANIES – SHORT BEANIES
Inspired by the woolly hats worn by dock-working fishermen, the fisherman beanie is one of the most popular styles today. This skullie sits on top of your head and, because of its shallow crown, doesn't cover your ears (or maybe just the top of them).
This short beanie has become a favorite of hipsters and fashionable guys everywhere. We can't promise it'll keep you super warm… but you'll look good while freezing.
3. BOBBLE HATS – POM POM BEANIES
One of the most iconic winter beanies is the bobble hat. These are characterized by a fluffy pom-pom on top. You've probably seen these hats everywhere from kindergartens to ski slopes. The pom-pom has roots in military history and was first used to protect sailors. According to popular theory, this ball on top of the beanie or toboggan protected sailors' heads from banging into things. True or not, it's a good piece of useless trivia to impress your friends.
Bobble hats are often cuffed and very warm. You can wear bobble beanies with both casual and dressed-up looks, but stick to solid, dark colors with your suit.
4. HIGH TOP BEANIES
Have you seen one of the most recent trends in beanies and toques for men? The one where guys have a knit cap precariously perched atop their head, daring a gust of wind to blow it off. While it won't do much for warmth, high top beanies are undoubtedly stylish (and can still hide a bad hair day in a pinch).
High top beanies are constructed with room in the top of the hat and are worn as high on the head as possible without falling off. Make sure the extra material pokes up at the top (a stronger knit will help with this). Otherwise, your beanie may fall to the side and look like a Smurf character.
WHAT'S THE BEST MATERIAL FOR A BEANIE?
The first step in choosing yours is deciding on the right material. If you're after a lightweight beanie for the spring, summer, or autumn, you can't go wrong with an organic cotton toboggan hat or beanie. This lightweight material breathes and won't hold heat under it.
When temperatures drop, opt for Merino wool for a water-resistant, warm-and-cozy option that'll keep icy winds and wintery drizzle from ruining your day (and hair). And for real cold-weather protection, get a beanie that covers your ears. While that fisherman beanie you have your eye on is trending on IG, your poor ears will be left begging for cover.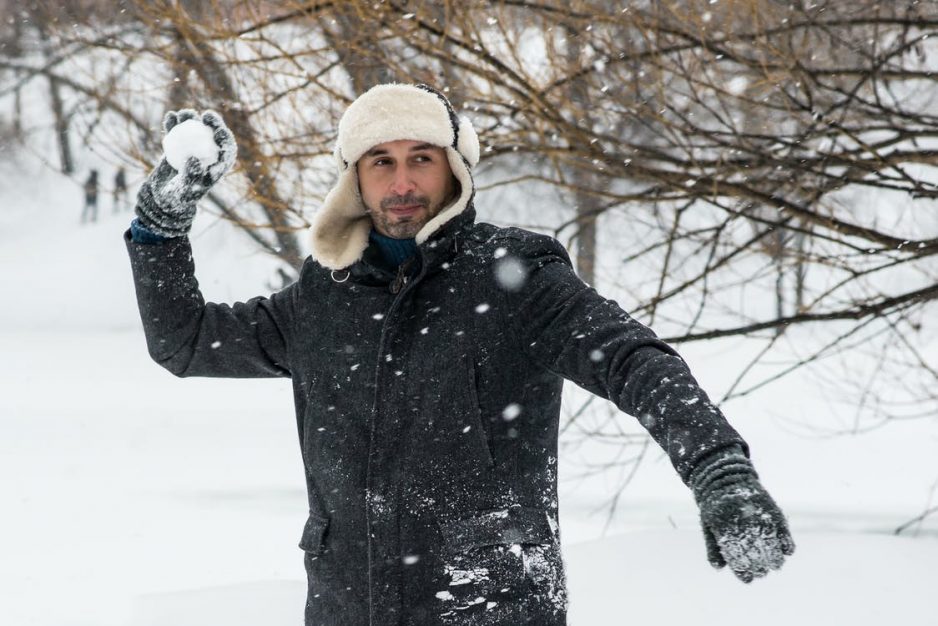 Advantages of Wool Beanies
Naturally water-resistant
Naturally moisture-wicking
Highly insulating (keeps you super warm)
Durable and high-functioning
Breathable
Merino wool is impressively soft and itch-free
Advantages of Acrylic & Synthetic Beanies
Made from synthetic fibers
Resistant to abrasion and wrinkles
Less likely to wrinkle
Lightweight and quick-drying
Advantages of Cotton Beanies
Highly breathable
Keeps you cooler by wicking moisture
Doesn't retain odor like oil-based fabrics (Synthetics like acrylic, polyester, nylon, and spandex)
Requires less washing
Durable
Less likely (compared to wool beanies) to become saggy or stretch out
Soft and itch-free
HOW TO SHOP FOR A MEN'S BEANIE
Beyond saving your ears from freezing off, the right knit hat can do wonders for your overall look and style. Step one is to decide if you want a beanie that'll keep you warm or one that you can rock in the spring and summer. After that, getting the right one is as easy as knowing what you like.
We've narrowed it down to the basics below. As with all accessories, we 100% support your decision to ignore these, do you, and tell your story. But… as far as easy-to-follow tips go, these are good ones.
Formal & Office Wear – Traditional cuffed beanie
Casual & Weekend Looks – Cuffed or not cuffed beanie or fisherman beanie
Streetwear & Sporty Outfits – Slouchy beanie, fisherman beanie or bobble hat
And if you're focused on getting warm, don't forget the importance of a winter scarf and sunglasses. There's no need to freeze for style.