When it comes to socks, your choice can be a game-changer. Need to add some colour or vibrancy to an outfit, look no further than a patterned sock. Fancy a respite from the sweltering heat, keep yourself cool with a lightweight sock.
Let's take a look at some extra tips for wearing socks in the summer:
Socks and Sandals & Socks and Shorts
The age-old question – are socks and sandals acceptable? Our view is that you should wear whatever makes you feel comfortable.
Who knows, you could be at the helm of a new trend and find yourself leading the sock and sandal revolution. Sandals do give you a golden opportunity to really show off your socks, so be bold with your choice. We've got some fun, eye-catching patterns in our Men's Spring/Summer range and lots of bright colours to be found in our Women's collection too.
It's up to you how loud and proud you want to be about your sock choice when wearing shorts too. Longer socks and shorts are a possibility if you want to wear some attention-grabbing socks, but they might end up making you feel a bit hot under the collar instead.
They do give you a good way to coordinate some colours in your outfit though or add some vibrancy. Think of a longer sock as a good accessory to instantly add some more fun or pattern to your summer look.
Smart Socks
If you're heading to a summer wedding and need to rock a formal look or just want to look your best at work then we'd still recommend wearing socks with any formal suit and tie situation. A suit, tie, formal shoes and no socks just doesn't look quite right.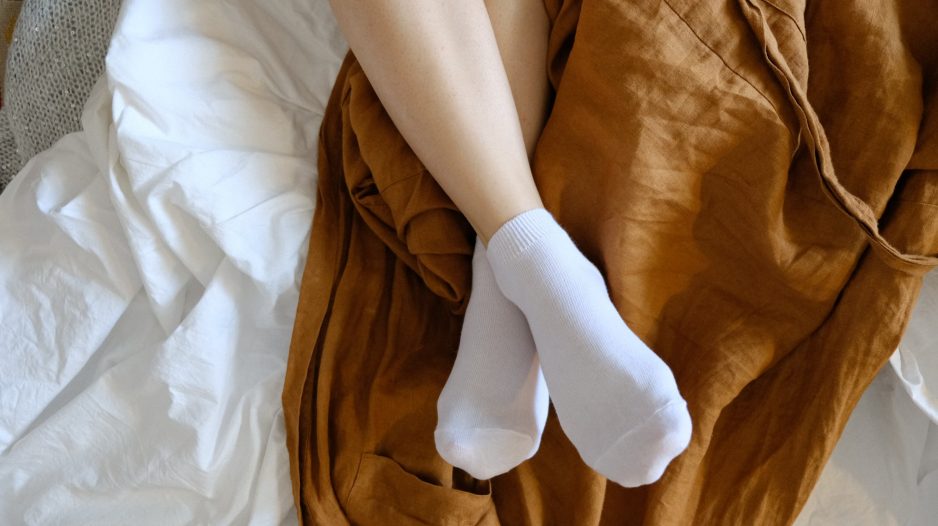 When you're wearing a suit that's more understated with a neutral colour like grey, you could decide to wear block colour socks to coordinate with a tie. Or if you're not looking to make a statement, you can wear a more toned-down, darker colour sock. We have plenty of colour ideas here.
We've got lots of low-cut socks, which are perfect for giving your feet some protection but creating the illusion that you're not wearing socks at all.
These can be worn with shorts and trousers combined with loafers, boat shoes, sneakers and plimsolls. Sometimes it just gives your outfit a cleaner look without socks, especially when you're going casual. It can all depend on the shoes you're wearing, but some sneakers and trainers can look much better when a sock is hidden away.
Keep Cool and Carry On
One of your biggest priorities in the summer months is staying cool and not overheating. Sweltering in the heat isn't comfortable and can affect your day out. Keeping your ankles cool is a good way to help regulate your overall temperature too.
Invisible aka no-show socks
Sometimes you might run into terms such as "loafer socks" or "low profile socks". I've come across people that hate these types of socks, and I don't really get it. In my opinion, they're the best type of socks for the summer – let me explain: these socks were created to hide them in sneakers, low boots, moccasins or slip-ons. Of course, there are certain occasions with certain dress codes where these socks aren't suitable, but they're great for school, work or hitting the pub with your friends. As far as sneakers are concerned, you'll appreciate no-show socks with models like low-top Converse or pretty much any Vans model – Era, Authentic, Slip-on etc.
Ankle socks
These socks are longer than no-show socks but shorter than crew shorts. Although I have some ankle socks at home, I sometimes wish that they didn't exist. You can see people wearing them wrong on a daily basis, wearing them with sneakers lower than the socks themselves, which can ruin their whole outfit, and the sneaker too – take a look at the picture and see for yourself. However, ankle socks are a brilliant choice for any kind of sport or, for example, hiking. And you can wear them without a problem with, say, a pair of Dunks and wide trousers.
Apart from being slightly longer than ankle socks and slightly shorter than regular socks, short crew socksmy favorite girl's trend. They fit excellently to sweatpants or trousers with wide legs. Boys will appreciate them with mid or high-top sneakers.
It can be tempting not to wear socks at all, but that isn't a great idea for hygiene purposes (smelly feet alert!) and you can end up with some painful blisters when you take your shoes off, ouch! Lots of our socks at Corgi come in lightweight, breathable material, so you won't find yourself getting hot and sweaty when you're in the sun and can feel comfortable when you're on the move.
Take a look at our lightweight, cotton socks from ankle socks, low cut and long socks. We have a colourful, quality men's range and a lightweight women's range too.
Stay comfortable and cool with our stylish socks this summer!